Why us ?
We create new levels of expectations!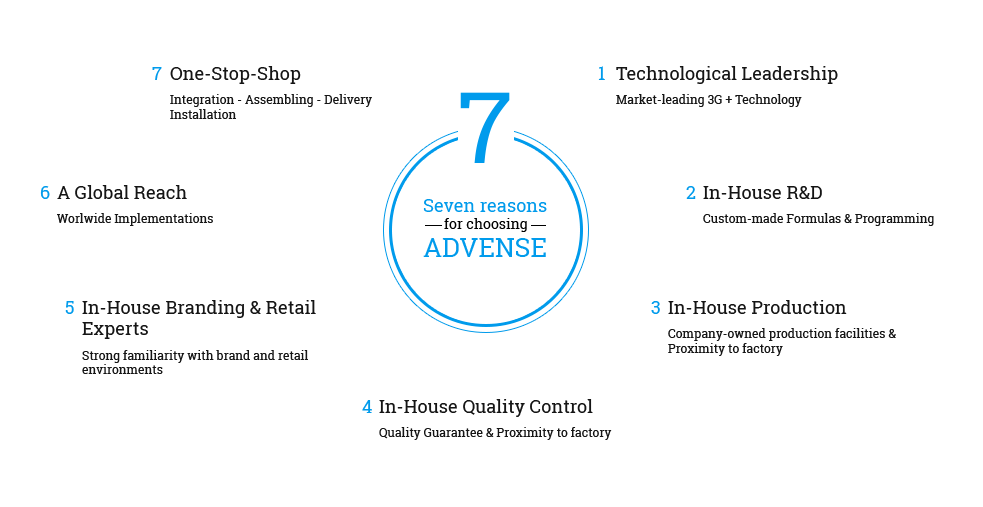 Our Process
We control the full-cycle project management !
Detailed Consultation & Immersion
Close briefing & data sharing.
Close interaction with the client to evaluate project requirement & scope of work.
Creative & Engineering Strategy
Analysis of project and objectives by our creative engineering departments.
Set-up of a strategy that maximizes the potential of the technology for a specific project.
Cost Estimation
Sharing of a made-to-measure quotation (pricing depends on project specifications)
Simulation
Each quotation comes with a free-of-charge simulation/animation
Prototyping
Upon approval of the quotation and animation, a sample is developed.
Serves as the 'master proof' and base during the entire production process.
Production
Launch of in-house production upon approval of the prototype (Lead time depends on project specifications, and will be confirmed upon order).
Quality assurance during the whole manufacturing process.
Integration / Assembling
Integration of the product light source onto selected support (if required).
Assembling operation towards achieving finished and ready-to-install products.
Qualtity Control
Ongoing QC during the whole production process.
Affirmation that all specific requirements & standards are being met.
Pack & Ship
Specialist packing & documentation advice services will ensure that your parcel is properly secured for safe travel across all foreign borders.
Domestic & international forwarding solutions.
Installation
On-site installation by our appointed contractors